So what is it?
The
Stomp Happy Tribe
is a well established Ceilidh band based in Cambridge.
Going for over 30 years!
Experienced in balls, weddings, parties, corporate events, etc.
Rock 'n' roll 'n' Folk Ceilidh band with attitude
Own P.A. and caller
6 piece band (currently)

Russell - Caller. Like Father Christmas, he keeps on giving.
Richard - Guitarist. He's finger-picking good.
Stephen - Bass player and leader
Paul - Mandolin (a.k.a. "Whatever the hell that thing is")
Anne - Violinist and intellectual property advisor
Adam - Drummer and all-round nice guy

£10m Public Liability Insurance
I saw you ages ago!
Yes, we started in 1990, but individually we've played in other ceilidh bands even earlier than this. So we've been going well over 30 years. Of course, the line-up has changed over the years, but we still play in the way we used to. If you saw us in the past, you might be interested in seeing how the
band line-up
has changed over the years.
What do you sound like?
You might like to
download
an MP3 of the Dashing White Sergeant (and
here's a video of us playing it live
). You'll hear that we play traditional tunes, but in a not-so-traditional way. Not all ceilidh bands are the same; many are more at home at an acoustic folk club than playing in a large venue for a wedding or party. We play reggae, we jump about, we rock.
What dances/songs do you do?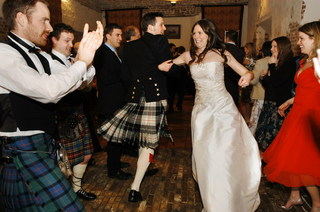 Enthusiastic Strip the Willow
We play a whole range of traditional Scottish, Irish and English tunes to accompany their traditional dances. We also play a few more modern dances in the same style. We hope that each dance is memorable and has a 'hook' whether it's the manic baskets of Cumberland Square Eight or the Men-vs-Women chains in the Flying Scotsman. We are capable of playing for a full evening and a typical set list can be found
here
.
I recognise some of you, but you weren't playing folk music
Ah! You'll be thinking of
Nearly New Romantics
,
The Babysitters
,
Terrorformers
,
Keltrix
,
Hertfordshire Chorus
or perhaps the Cambridge 'Fitz' Swing Band, various Jazz bands and even the odd pantomime. Cambridge is a small place... And no, Stephen wasn't the bass player in
Spirogyra
, partly due to not being born at the time.
What people say about us
"We wanted to say a huge THANKYOU to ALL of The Stomp Happy Tribe for giving us such a fantastic evening last Saturday. Every one had a great time and so many people commented on how good the music & caller were, & in particular the exhilaration of the 'Strip the Willow' by a native Scot was described as being the best ever!!!!
Please tell all the band, it made our evening very special."
"Just a quick note to say thanks again for a fantastic ceilidh on April 5th. Emma and I had both been looking forward to that part of the day massively and it didn't disappoint (other than the room not being big enough). Brilliant, brilliant work: crazy, chaotic dances just like it should be!"
"Just a quick note to thank you and all the other members of the Tribe for a great gig last Saturday. You really made my 40th birthday party a wonderful and memorable occasion. I have already received a lot of comments from the guests along the lines of 'what a great band!'"
"We just wanted to drop you a quick note to say thank you to the whole Stomp Happy Tribe for playing at our wedding. The music was great and the atmosphere was fantastic. We were thrilled to see so many of our friends and family who promised they would not dance, up on the dance floor all night! Well done especially to the caller for keeping everyone in check! We have had loads of wonderful feedback about the wedding, but most of all everyone saying what a good idea the ceilidh was and how much they enjoyed it (some had been sceptical beforehand). One of our favourite guest comments has to be: "my swingy partner arm is bruised and my feet hurt but I haven't had so much fun in ages!". Most of all, we had a great time and would highly recommend you for any event."
"I really wanted to say a big thank you to you and your fantastic band for a top evening! You really got everyone going, and created a lot of laughter and fun activity. You handled the group dynamics of lots of uneven numbers or non-traditional couples so well and got everyone included! I think the evening was a great success, and we are really pleased you were recommended to us."
Contact
For more information, email
Stephen
or phone on (01223) 572165. Email is preferred, please.
---
On-line voting for your favourite slogan